Biography
Yohei TANEDA: Production Designer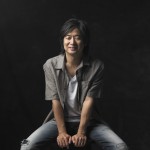 In 2014 Yohei Taneda has added another milestone as a production designer. Having already established his career through many acclaimed films in the United States, China, Hong-Kong, and Taiwan besides his own country, Japan, he challenged the production design of "When Marnie Was There ; Omoide no Mani", (2014) directed by Hiromasa Yonebayashi, who is recognized as a successor to the renowned director, Hayao Miyazaki, from Studio Ghibli. For Taneda, this is the second animation film after "INNOCENCE; Ghost in the Shell 2″ directed by Mamoru Oshii (2002,).
Waiting to be released in 2015 and now under post-production, is "Monster Hunt: 捉妖記" (2013, Edko Films, China-HongKong). Raman Hui, who built his career through animations and especially acknowledged as the supervising animator in 'Shrek' series, made his debut as a live-action director. For this Chinese epic, Taneda masterly made out the fantasy world where humans and monsters co-exist.
Recent films by his production design include "Man of Tai Chi", kung-fu action film by an actor Keanu Reeves – this is also his directorial debut – (2012, US-China), in which Taneda yielded great variety of fighting fields. Meanwhile, in a Japanese period film, "Kiyosu Kaigi" directed by Kohki Mitani (2012), Taneda created the superb set of the Kiyosu castle from the civil war period and received huge acclaim. He also gave challenge to another epic drama based in the Three Kingdom period in China, in "The Assassins; Tong que tai" by Zhao Lin-shan (2011, China).
"The Flowers of War; Jin ling shi san chai" (Zhang Yimou, 2011), the Golden Glove nominated film (for Best Foreign Language), presents us the churches and towns bombed, – vividly materialized by Taneda – recorded a huge success in China mainland. Also boasted a huge critical acclaim (nominated at the film festivals, including Taipei Golden Horse Festival) and made an extraordinary hit in Taiwan, was "Warriors of the Rainbow; Seediq Bale", the film by Taiwanese director Wei Te-Sheng (2009). This tragic epic drama depicting the indigenous tribe Seediqs, added more reputation and fame to Taneda.
Among other films by Taneda's production design are; "AIR DOLL; Kuuki Ningyo" directed by Hirokazu Koreeda (2008), "VILLON'S WIFE; Vyon no Tsuma" (2008, directed by Kichitaro Negishi) – which won the Golden Award in Montreal Film Festival, and with this film Taneda won the Japanese Academy Award for the Best Production Design. Taneda joined the director Lee-Sang Il for his projects; "Villain; Akunin" (2009) and "Hula Girls" (2006). In "SLEEPLESS TOWN; Fuyajo"(1998), Taneda worked with the Hong-Kong team, director Lee Chi Ngai and cinematographer Arthur Wong, and with Shunji Iwai, in his stateless, chaotic film "Swallowtail Butterfly"(1996). And we should add "KILL BILL Vol.1", directed by Quentin Tarantino (2002) to his representative works.
Taneda has established reputation as a production designer who can create the world specifically for each project. He untiringly keeps upon working, transcending borders between genres as well as countries. Those efforts of him resulted in the Award of the Minister of Education, Culture, Sports, Science and Technology in 2010, and also he was granted the decoration from Japanese Government, the Medal with Purple Ribbon in 2011.
Photos by Zhou Yulong

Unless otherwise noted, the year cited in a bracket gives the year when Taneda finished the production design.

as of October the 3rd, 2014
YOHTA-design